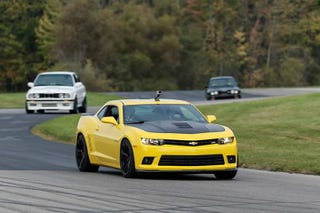 This past Friday marks six months since I first picked up my big bright yellow chunk of America, and I've put just over 9600 miles of daily driving, road trips, autocross, and track time into it. As it gets chillier here in Michigan and winter storage looms, here are some of the highlights from this first season:
April
---
Once I dried my tears of joy over finally owning a car less than ten years old, the first thing we did was take off the silly plastic engine cover and it was time to get those pesky break-in miles out of the way before the first autocross of the season. Travis and I opted to turn this into a phone-free weekend trip up to beautiful Traverse City, Michigan. We spent all day driving scenic M22 and other twisty roads, and then spent all night drinking the finest beers Michigan has to offer. Seriously, if you're ever in the area, hit up Stormcloud Brewery.

First autocross? Didn't come in first, nor last, but had much improvement. Can't recall too much else, but here's a picture:

I also visited Belle Isle for more photos, and this one has the GM RenCen in the background:
May
My sweet, darling SO wrote an article on my vehicle which reached the Jelerpnik Front Page(TM). This sounds much less adorable once you remember that he is the jerk behind the ever-popular jimmy-rustlin' series called "Why Your Car Sucks." Don't worry, revenge was to be mine in June.
I also took advantage of a beautiful Michigan day to take this picture in Ann Arbor:
We had passes to the Camaro Six reveal, as did many other Camaro owners. We got to take a parade lap of Belle Isle in our own cars, and then were treated to lunch and hot laps in Z/28s and ZL1s.
June
So, about that revenge... I purchased one of the most hideous Monte Carlo shirts I could find, and gave it to Travis to wear on the Hot Rod Power Tour. Little did either of us know that he would be wearing that ridiculous shirt while meeting his Roadkill heroes. Finnegan and Freiburger are cool dudes, signed his ugly-ass shirt and everything.
While we were in Champaign for leg 2 of HRPT, I put the 1LE on the dyno for a bone-stock baseline. 374HP and 366ft-lbs? Not bad!
Later that month, I took part in the SCCA Starting Line. Highly recommended for autocross newbs, I got a lot of much-needed seat time with national champion instructors telling me how to get the most out of my car. We also got to take home miniSD cards with Garmin Virb footage from our day. Since the event (and the next day's autocross) was in the Pontiac Silverdome's notoriously poorly paved lot, I had bolted up a set of regular SS wheels and tires purchased cheap courtesy of Craigslist. I didn't even have the newest car there, though. That honor goes to the brand-new manual C7 Z51 below, which also happened to be female-owned.
My youngest sister graduated high school back in New York towards the end of June. Naturally, this meant another road trip. We discovered that my Recaro seats do not make super comfortable beds on overnight trips. Travis, upon encountering the joys of NYC traffic with a manual transmission, yelled "THIS IS WHY THEY DON'T LET YOU HAVE GUNS HERE" as he inched along among countless assholes trying to merge directly into us and honking incessantly. But my high school friends still living in town thought it was indeed a bitchin' Camaro, thus validating my purchase and life decisions.
July
I kicked off the month with my first oil change ever done at a dealership! It was free! Woo! We also installed a dirty side oil catch can, which is a good idea for these LS3 engines. The fine folks at Clear Auto Bra MI also had my fancy clear bra installed just in time for....
Oscoda Pro* Solos! If you haven't seen one, it's basically two mirrored autocross courses set up with a drag race style tree start. We camped out for the weekend and had a great time. I got to use the Camaro's fancy launch control and cut a damn fine light, especially for my first time.
August
Woodward cruise season in full swing. I somehow made it through without any tickets, though Travis did not. Cited for "Monte too bitchin' failure to yield," but had it knocked down to "limited access," whatever that is. Steve Lehto?
And here's my car #twinning. The final production numbers aren't out yet, but I'm going to guess there's not too many bright yellow 2015 1LEs out there. There were less than 140 in 2014!
September
TRACK DAY BRO! I decided to use up my remaining tire life on a track day at Grattan Raceway with 3Balls Racing (tagline: "When two just won't do!"). I've been to Grattan before on two wheels, and I could probably write an entire post on the differences between tracking my car vs my bike. Still, it was nice to have some familiarity with the track.
In preparation, we flushed out the OEM DOT 3 fluid (wtf, GM?) for Motul RBF600 DOT4, and the OEM pads for EBC Bluestuff. I nearly had a heart attack opening up the box of brake pads and seeing "Dodge Magnum" on the invoice, but upon triple checking the part numbers, they just happen to be compatible. Thanks Brembo! Speaking of, these fancy quick change calipers made for the best damn brake job ever.
The track day itself was perfect. Car was amazing, people were great, and the weather held up fine as well. There was a classroom session and instructors available for groups 3 and 4 (I opted to join group 4 since it was my first time tracking the car). I got to take a ridealong with an instructor who had a C5 Z06 and gave me a running commentary with great pointers via in-helmet comm devices. Then he accompanied me on the first session. My rallye36 friend Santiago let me borrow his GoPro, so I have some wind-noise laden footage below. I should've put it in-car, if only to capture the comments from the instructor. Especially the time someone refused to point me by and he said "It's a huge bright yellow car, what's their excuse??"
(video footage to be added)
By the end of the day, I'd lapped or passed all but 2 other drivers in my group, EVEN ZEE GERMANS. I could've jumped to group 3, but they had a lot more traffic and I liked not having much in my group.
The drive home? Not so great. About two hours from Grattan, Travis was driving when the Camaro suddenly died. Luckily, he was able to coast to the shoulder, but we were not able to get it restarted. Everything looked fine, and it would crank, but wouldn't turn over. After a long wait for the tow truck and almost a week in my dealer's shop... Nothing. It started right up with no problem at the dealership, didn't throw any codes, and the techs were not able to replicate the issue in multiple test drives. Everything we could think of was fine. I took it back home yesterday and everything is normal. The issue's been documented and if it ever happens again I'll be requesting a new ECM under warranty. My sister insists that my car had been spoiled by exciting track time and was just protesting the return to lame highway driving. *shrug*
"Get a new car," they said. "It'll be reliable," they said! I muttered to myself every day that I had to drive my beater to work while the Fatmaro was in the shop. At least anything that went wrong on the Jeep could be fixed with a hammer, but anyway...
All in all, even with the weird trip to the shop, the Camaro has been an awesome car for me and I can't wait for more adventures.